The Bike Clubs trip to Ballykinler 2001
To enlarge any of these pictures just click on them.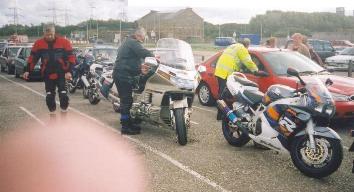 Bikes lined up before the off.

Old soldiers for the Duke Of Edinburgh's, Royal Regiment
line up before boarding the ferry to Northern Ireland. The following took part in the trip: Toby North, Stuart Nimmo, Colin Snee, Ron Sutton, Kiki Ball, Rex Francis, Jamie McCann, Peter Dunlop and Roger Rolls.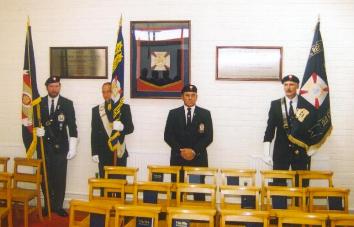 Standards on parade.

Standards on parade at the unveiling of the Duke of Edinburgh's

Plaques in the Garrison church. The Plaques and the framed Duke's band stand emblem was organized by the Quarter Master Paul McLeod, himself a victim of the attack on Sandies. From left to Right:

Rex Francis........RGBW Association Standard.

Peter Dunlop......The Duke of Edinburgh's Swindon Branch.

Ron Sutton.........Standards Organizer.

Roger Rolls........The Duke of Edinburgh's Old Comrades Standard.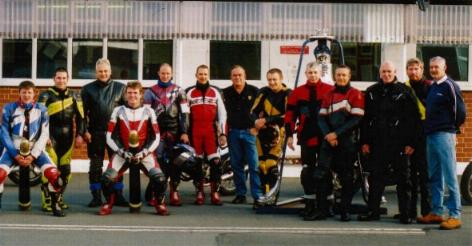 Bikers arrival at Abercorn Barracks.

Arrival at Abercorn barracks, Ballykinler. Photo taken out side the guardroom in front of the Vernon bell. From left to Right: Rupert Guest, Kieth Bennett, Toby North, MH, Peter Dunlop, Jamie McCann, Ron Sutton, Tom Guest, Stuart Nimmo, Kiki Ball, Colin Snee, Rex Francis, Roger Rolls.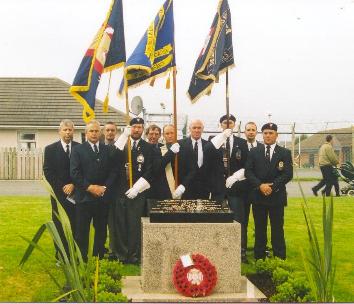 Memorial Site

The Memorial site at Sandies. The Regimental Padre conducted a service at the site in the Memory of Private Mick Swanick and Private Taff Coughlan (RWF) who lost their lives on that fateful day when Sandies was cowardly attacked by terrorist in Northern Ireland. On parade at the right hand side off the photo, Ron Sutton who although

Survived was later medically discharged through the injuries sustained.

This is the first time that Ron has made the trip back to Ballykinler, which made it a very special moment for him.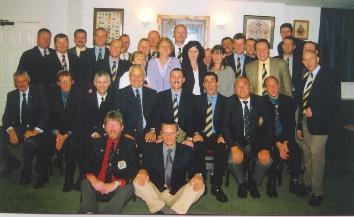 The Sgts' Mess.

The Bikers club being well looked after by the Regimental Sergeant Major Roger Rowley, some of his mess members and their wive's. What a great trip, Our thanks to all those in the 1st Battalion for making the trip another fantastic memory of life in the Regiment.
Jamie McCann will be organizing more trips out with the 1st

Battalion on there return to Hounslow this year. anyone interested should contact Jamie on 07866 727887