Captain Terry J Freelove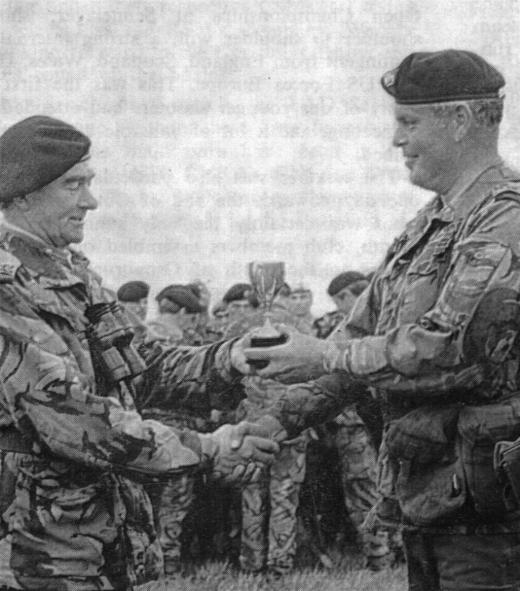 Terry enlisted in the Duke of Edinburgh's Royal Regiment in 1960, and it became apparent at a very early stage that this soldier was destined for the top. It was at Tidworth in 1961 and in Malta the following year when he served in the Signal Platoon, whilst in the Platoon he was promoted to Corporal. He was an excellent shot, and was a member of the record breaking Smallbore team.

As a Sgt, 1965-68 he was a permanent Staff Instructor with both County Territorial Battalions, 4th Wiltshire Regiment and the 4th/6th Royal Berkshire Regiment. In 1970 he was selected for that prestigious posting for senior non commissioned officers, as an instructor at the Royal Military Academy, Sandhurst. During this tour he was promoted to Colour Sgt.

He was 'A' Company Sgt Major, and here his strengths were clear for all to see, confidence, bearing, intelligence and efficiency. During the long tour in Ballykinlar he served with distinction and natural authority, tempered with good humour and sound professional knowledge, borne out by the affection shown to him by his soldiers.

On promotion to W.O.1 in 1977, Terry was appointed Regimental Sgt Major to the 2nd Battalion Wessex Regiment; here his adaptability, and flexible attitude of mind, won him the respect and admiration of the T.A. Soldier. He was selected to be the R.S.M. of the 1st Battalion D.E.R.R., but a family illness prevented him taking up this appointment. He was instead posted to the 4th Battalion Ulster Defence Regiment, where his strong personality, good humour and enthusiastic participation in all aspects of the Battalions and community life, combined with an uncompromising demand for a high standard of performance from his N.C.O.s earned him wide respect.

Commissioned in 1980 Terry became the Families Officer for the 1st Battalion D.E.R.R.

In 1986 he assumed the appointment of O.C. H.Q. Company at the Depot, Whittington Barracks, and it was here that his illness was first diagnosed.

He passed away at the Queen Elizabeth Hospital, Woolwich on the 29th September 1988

.