Colour Sergeant Barney Foster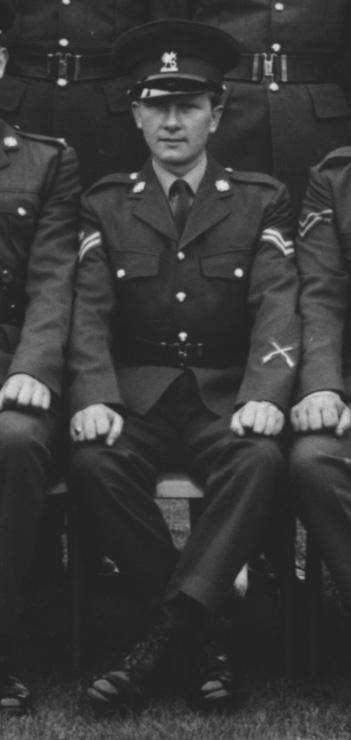 On the 23rd March 1973 Colour/Sgt B. FOSTER was killed by terrorists in Belfast. He was known within the Regiment as 'Barney' FOSTER.
In November 1961 'Barney' joined the Newbury Company of the 4th/6th Royal Berkshire Regiment. He later decided to join the Regular Army and make soldiering his career.
After training at the Wessex Brigade Depot at Exeter, he was posted to his County Regiment, 1st Bn Duke of Edinburgh's Royal Regiment at that time serving on the Island of Malta. He joined 'C' Company and was later selected for the 3" Mortar section of their Support Platoon, eventually qualifying as a Mortar Fire Controller. During the Battalions tour he also saw service in Libya and in Cyprus, where the Battalion was manning the Green line in Nicosia during the Greek and Turkish troubles.
He then went with the Battalion to Minden in West Germany, where he joined the newly formed Support Company. After attending an A.P.C. course he became a first rate A.P.C. instructor. He also attended an American Army N.C.O.s course, at which he graduated; he later attended a parachute course.
He was then posted to the Wessex Volunteers at Exeter, where he was a member of the Wessex Depots Warrant Officers and Sgts mess. Although from another unit, he was a very active member of that mess in every sense. He was the person responsible for the introduction of 'Southern Comfort' Liqueur whisky into the mess.
In June 1972 he was posted to Headquarters Northern Ireland to fill a new appointment where he was to work on the urgent operational equipment requirements in aid of the internal security situation. This appointment was directly controlled by the Ministry of Defence, and therefore his selection was very much a feather in his cap.
From the beginning he established himself as an NCO of special qualities, in particular he was able to inspire confidence in everybody who came into contact with him, no matter what their rank. He was to obtain from private soldiers detailed assessments of complex equipment and, in the next breath, to relay these assessments to senior officers.
Whether talking to a general or a private he was invariably, able to put his viewpoint on technical matters with a simplicity and directness, which would have been the envy of many of far greater rank and seniority.
His enthusiasm for the job was boundless and he was very anxious to see at first hand new equipment, which were providing problems, or not performing, as they should. Inevitably this took him all over the province and often into areas of great risk, all of which he took in his stride.
His last day was spent putting on a demonstration of a new prototype multibarrlled baton gun, which he had helped to develop. This demonstration was attended by the then C.L.F. Major General Robert FORD, and all three Brigade Commanders. Largely due to his efforts and enthusiasm the demonstration was successful and the equipment accepted for immediate service.
'Barney's' Funeral took place at Newbury, at St Josephs Roman Catholic Church with full Military Honours.