Private Brian Allen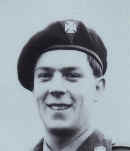 Brian was killed on 6th November 1974 in Crossmaglen
as was his section commander Cpl Steve Windsor, Pte
Mick Walters was seriously injured.


The photograph below was taken on Remembrance Sunday 1996, two days after the plaque bearing the name of Private Brian Allen was affixed to the Memorial in his home town of Ilkeston in Derbyshire, after a lengthy

campaign against a Council decision not to have his name shown. The campaign was assisted financially by RHQ's R.G.B.W., the Officers and Men of 1 R.G.B.W, several Regimental Associations associated with the Duke of Edinburgh's Royal Regiment, Local Residents and Businesses and the Royal British Legion, a total of over £800 was raised towards the manufacture of the bronze plaques.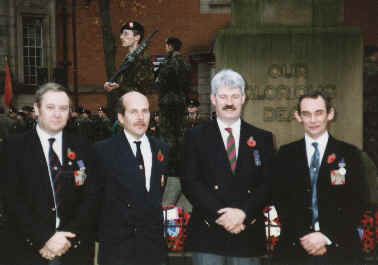 In the photograph from left to right are Mick (Smujjer) Smith, Ian (Mighty) Missenden, Dennis Moloney and Mick (Noddy) Walters.